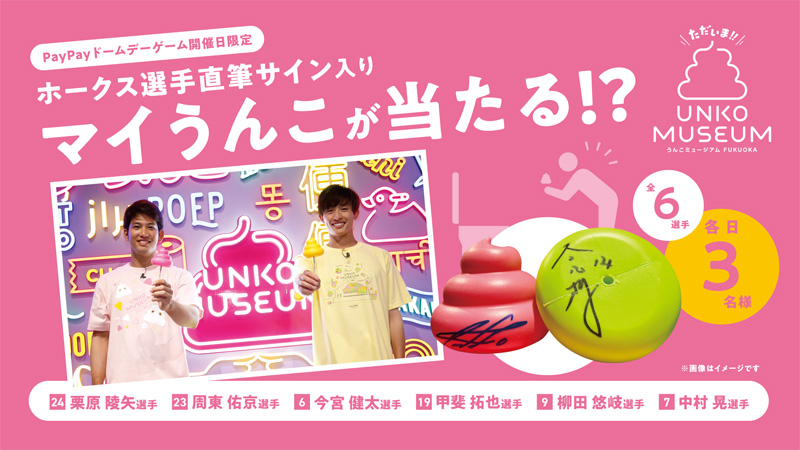 Let's go to the poop museum on days when there is a day game at PayPay Dome! A special campaign has started at "I'm home!! Unko Museum FUKUOKA presented by CHIKYUJIN" on the 7th floor of "BOSS E・ZO FUKUOKA"! Each day, 3 people (2 people on Saturday, September 9th and Sunday, 10th) will win a My Poop signed by a Hawks player! At the poop museum, Fukuoka-exclusive content "Katsuun-sama" and "Nadeun" are also available♪ Visit the poop museum before or after the game and pray for the Hawks' victory!
Campaign details
Target days/target players
Target date
Battle card
Target player
Saturday, June 10th
Giant
Yanagida, Shuto, Kurihara
Sunday, June 11th
Saturday, June 24th
ORIX
Sunday, June 25th
Saturday, July 15th
ORIX
Imamiya, Akira Nakamura, and Kai
Sunday, July 16th
July 17 (Mon/Holiday)
July 30th (Sun)
Chiba Lotte
Sunday, August 13th
Hokkaido Nippon-Ham
Sunday, August 20th
Saitama Seibu
Yanagida, Shuto, Kurihara
Saturday, September 9

[NEW]

Rakuten Eagles
Yanagida and Shuto players
September 10 (Sun)

[NEW]

Akira Nakamura and Kai
* PayPay Dome Day Game Dates are eligible.
*Schedules may be added due to changes in the game schedule.
Winning target
3 people each day among the visitors of "I'm home!! Unko Museum FUKUOKA" on that day
*September 9th (Sat) and 10th (Sun) will be 2 people each day.
Delivery method
After entering, everyone will have their own poop maker that will randomly create their own signed poop!
What is Unko Museum?
"Unko Museum" is a state-of-the-art amusement space with the theme of poop. The "Unko Museum", which was born in 2019 as an unprecedented form of entertainment and became a hot topic, has been held for a limited time in Tokyo's "Unko Museum TOKYO", Yokohama, Shanghai, and Hiroshima, with a total of 1 million people experiencing it. that's all! The year before last, it was also held at BOSS E・ZO FUKUOKA, mobilizing 100,000 people in eight months and creating a great response.
▶ Click here for information on the poop museum
Event outline
name
Poop Museum FUKUOKA presented by CHIKYUJIN
Venue
BOSS E・ZO FUKUOKA 7F, 2-2-6 Jigyohama, Chuo Ward, Fukuoka City, Fukuoka Prefecture
Holding period
Until September 18 (Mon/holiday)
admission fee
(tax included)
【weekday】
Adult 1,600 yen
Junior high and high school students 1,200 yen
Children (4 years old and over) 700 yen

[Saturdays, Sundays, and holidays/specific days]
Adult 1,800 yen
Junior high and high school students 1,400 yen
Children (4 years old and over) 900 yen

*200 yen discount for persons with disabilities.
*Children under the age of 3 are free.
However, a maximum of 2 people can enter per 1 guardian, who must be accompanied by a guardian.
*Children under the age of 9 must be accompanied by a guardian (junior high school student or older).
Organizer
Fukuoka Softbank Hawks Co., Ltd.
Planning and production
Tanoshii Museum Co., Ltd. / KAYAC Co., Ltd.
Official site
https://e-zofukuoka.com/unkomuseum/