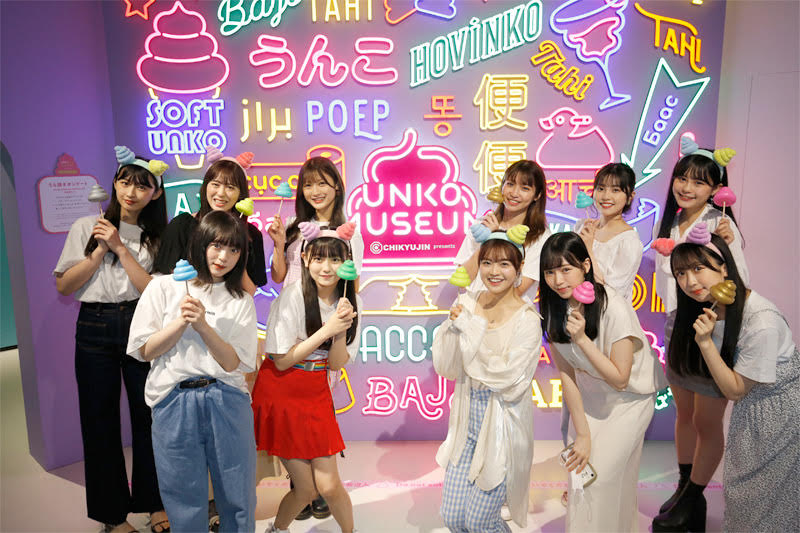 At CHIKYUJIN presents Unko Museum powered by HAWKS, we will hold a collaboration event with Fukuoka-based idol group "HKT48" for a longer period and time!
HKT48 collaboration ticket target date and time
September 19th (Sun) -October 24th (Sun), 2021
* It will end as soon as the benefits are exhausted.
* September 19th (Sun) -September 30th (Thursday) will be on sale on September 19th (Sunday), and after that, it will be on sale depending on the sales situation.
* This is an HKT48 collaboration event, and regular tickets are not eligible for benefits, so please be careful when purchasing.
Fee
Flat rate 1,800 yen (tax included)
Notes
・ The number of poops that can be purchased at one time is one per person, and the number of my poops that can be brought back is one per person.
・ Please note that you cannot choose my poop that you can take home with you.
・ Target members are all members who belong to after June 20th.
・ When purchasing a ticket, please select the HKT48 collaboration ticket and purchase it. Please note that regular tickets are not eligible. You will not be able to enter after the admission time.
・ To enter, you need a ticket issued at a terminal or ticket vending machine where you can check the QR code.
・ Please follow the staff's instructions in the hall.
・ We are not responsible for any injuries, losses, damages, troubles, etc. in this facility.
・ If you cannot enter due to unforeseen circumstances due to facility reasons, we will refund you. If you purchased from a ticket vending machine, you will need a ticket with a QR code for refund, so please keep it in a safe place.
・ When you complete the purchase, you are deemed to have agreed to these precautions and the precautions stated on the official website.