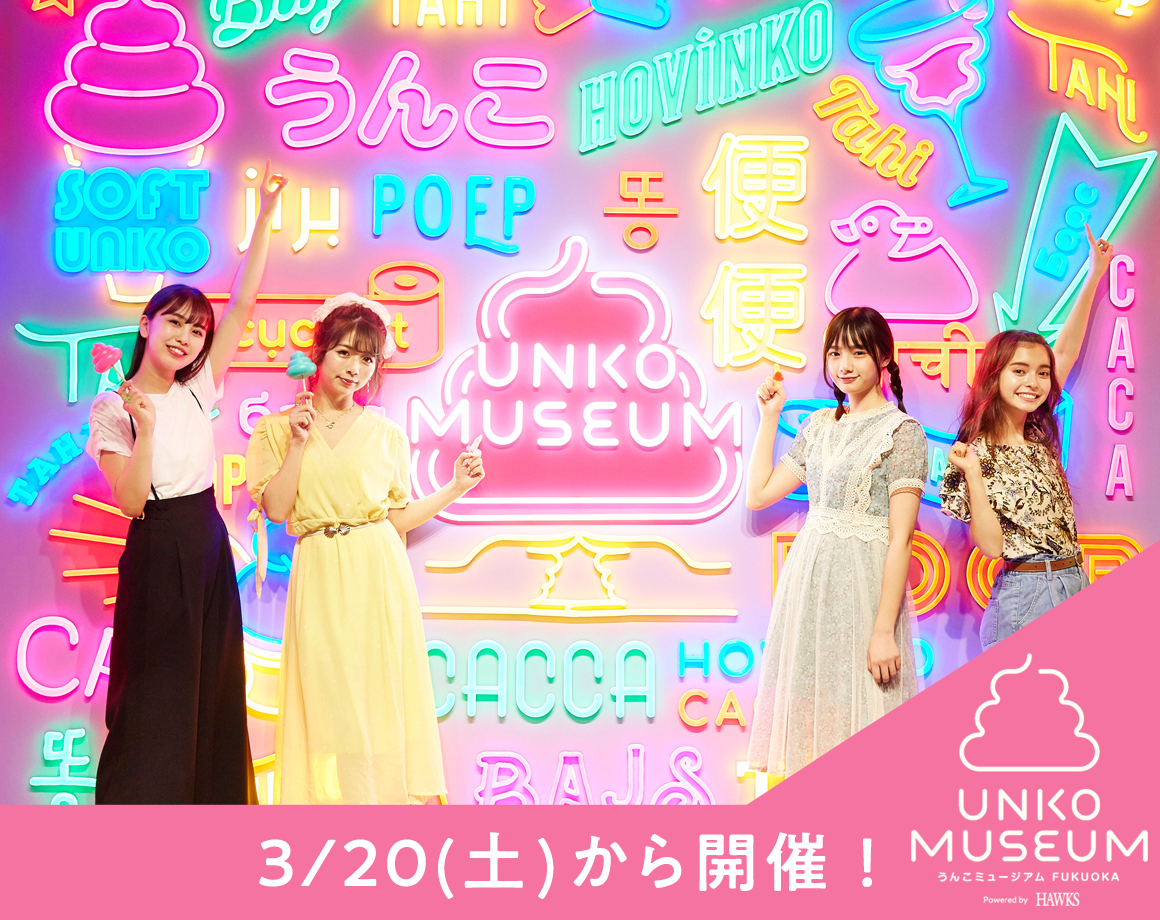 "Unko Museum FUKUOKA powered by HAWKS" will be held for a limited time from March 20th (Sat) to August 29th (Sun), 2021 at the 6th floor Event Hall BOSS E・ZO FUKUOKA We would like you to experience the extraordinary experience of cute and pop poop, and we will carry out an SNS campaign on E-ZO official Twitter and official Instagram where you can win a pair invitation ticket for the poop museum! Please apply by all means!
Campaign overview
Application method
[Apply from Twitter]
① BOSS E・ZO FUKUOKA Official Twitter (@EZOFUKUOKA) Follow
② Retweet the target post
[Apply from Instagram]
BOSS E・ZO FUKUOKA Official Instagram (@ezofukuoka) Follow
② "Like" the target post
Application period
March 1st (Monday) -March 10th (Wednesday), 2021 23:59
prize
"Unko Museum FUKUOKA powered by HAWKS" pair invitation ticket
Validity period: March 20, 2021 (holiday / Saturday) -April 28, 2021 (Wednesday)
Winning number
10 groups of 20 people by lottery for Twitter and Instagram
Winning notification
Only the winners will be contacted by DM (direct message) from BOSS E・ZO FUKUOKA
Notes
・ The winner will be notified by direct message, BOSS E・ZO FUKUOKA official Twitter account / official Instagram account.
・ After receiving the winning notification, please contact us by the designated method, such as contact information, by the designated deadline. Please note that if you do not contact us by the specified deadline, your prize will be invalidated. The rights as a winner cannot be transferred to a third party.
・ Personal information received from customers when applying will be used for contacting customers selected by Fukuoka SoftBank Hawks Co., Ltd. and will be processed promptly after the project is completed. Regarding the handling of personal information, "About personal information "Please refer to.
・ If you are a minor, please apply after the parental authority agrees to the precautions.
・ BOSS E・ZO FUKUOKA, accommodation, and parking fees on the day of the event.
・ Children under the age of 20 must be accompanied by a guardian to enter.