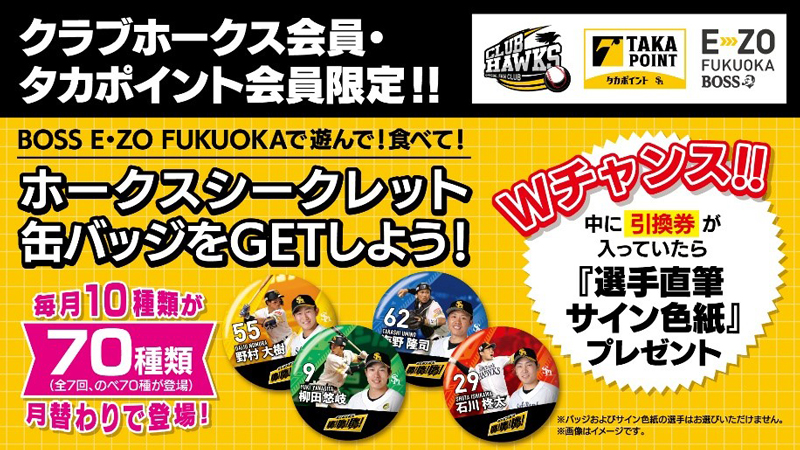 From March 31st (Friday), Hawks original can badges will be presented when you present your Club Hawks membership card or Taka Point membership card at BOSS E / ZOFUKUOKA attractions and restaurants. This campaign, which was well received last year, is back again this year! What's more, this year, if you put a "exchange ticket" in the bag of the badge, you can get an autographed colored paper from the player. 10 players are scheduled to appear in the lineup that changes every month! Higher chances and easier to collect your favorite players!
About the contents of the first distribution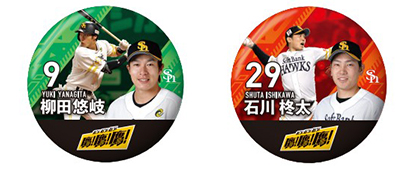 In the first round, 10 players including Yanagida and Ishikawa will appear!
Distribution period
March 31 (Fri) - April 30 (Sun)
Target player
Yanagida, Takeda, Kaino, Rei Takahashi, Ishikawa, Yanagimachi, Masuda, Ogata, Dai Nomura, Unno
*We will not distribute on April 2nd (Sun) Double Anniversary Day. Please note.
Hawks Original Can Badge Campaign Overview
Distribution period
March 31 (Friday) to October 31 (Tuesday), 2023
<Distribution schedule: 7 times in total>
1st: March 31 (Friday) to April 30 (Sunday)
2nd: May 1st (Monday) to June 1st (Thursday)
3rd: June 2nd (Friday) to June 30th (Friday)
4th: July 1st (Sat) to July 31st (Mon)
5th: August 1st (Tuesday) to September 1st (Friday)
6th: September 2nd (Sat) - October 2nd (Mon)
7th: October 3 (Tue) - October 31 (Tue)
Target person
Club Hawks members and Taka Point members
Distribution contents
Hawks original can badge (70 types in total: 10 types x 7 times planned)
Distribution method/conditions
Hawks original can badges will be presented to those who present Club Hawks membership cards or Taka Point membership cards when using restaurants or attractions in BOSS E・ZO FUKUOKA.
* Conditions differ for attractions and restaurants.
■ 4F ~ RF each attraction use
Please show your membership card when entering. We will give you one for each paying visitor.
■ 3F restaurant
Present your membership card at the time of payment and we will give you one for every 1,000 yen per transaction.
■ Signature colored paper
If there is an exchange ticket in the badge bag, please bring the ticket to the information desk on the 3rd floor. I will exchange it for a signed colored paper.
Target stores
RF Superb Attraction SMBC Nikko Securities "Tube Slider" "Rail Coaster" "Climbing & Bouldering"
6F Virtual Experience Area Crédit Agricole
5F teamLab Forest Fukuoka – SBI SECURITIES
4F OH Sadaharu Baseball Museum
Each store in 3F The FOODHALL
* 7F Yoshimoto Fukuoka Daiwa Securities / CONNECT Theater, HKT48 Theater, 6F/7F events are not eligible
Notes
■ About badges
* Tickets and accounts are valid only on the day.
* You cannot choose the type of can badge.
*This badge may not be distributed on days when other distribution campaigns overlap, such as Double Anniversary Day. For details, please check BOSS E・ZO FUKUOKA official website. (https://e-zofukuoka.com/)
※The image is an image.
*Distribution locations are subject to change without notice.
■ About signature colored paper
*We cannot exchange autographed colored paper for other players. note that.
* There is a deadline for exchange. Please redeem at E・ZO3F information within the expiration date stated on the exchange ticket.
*Subject to change without notice. Any changes will be announced on the official website.