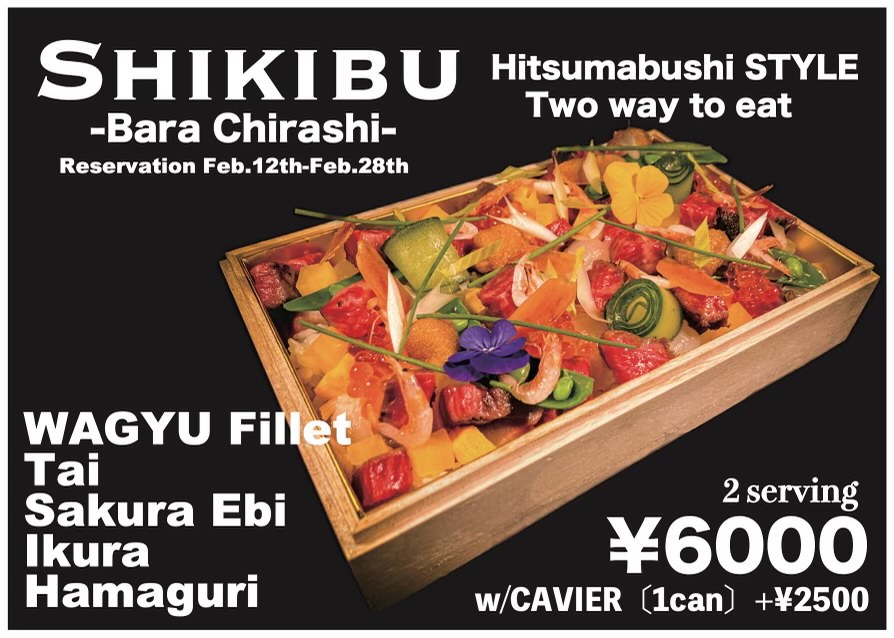 This year's Hinamatsuri is Yakiniku lean meat ♪ We are accepting reservations for the gorgeous rose chirashizushi "SHIKIBU" with a gorgeous dining table! You can enjoy the stunning rose chirashizushi, which is a condensed version of many fine and polite craftsmanship, not only as it is, but also with a special soup stock and roasted green tea salt in a hitsumabushi style. You can also add caviar toppings for +2500 yen ♪ The deadline for reservations is February 28 (Monday).
Details of "SHIKIBU"
Fee
6,000 yen
1 can of caviar topping for +2,500 yen
Details of contents
・ Luxury ingredients
(Wagyu fillet, karasumi, clams, marinated clam soup stock, rice with soup stock, foam soy sauce, spring vegetables that feel the breath of spring)
・ Dedicated soup stock (for Hitsumabushi style)
・ Hojicha salt
Reservation acceptance period
Reservation accepted-February 28 (Monday)
Receivable date
March 3, 2022 (Thursday) 15: 00-only on that day
Store
Yakiniku lean nigakuto
Hours
11: 00-22: 00 Last order 21:00
* Business hours may change in a hurry.
Reservation / Inquiry
092-401-0055
* All prices include tax, and all images are images.
* Sales details, prices, etc. are subject to change without notice.