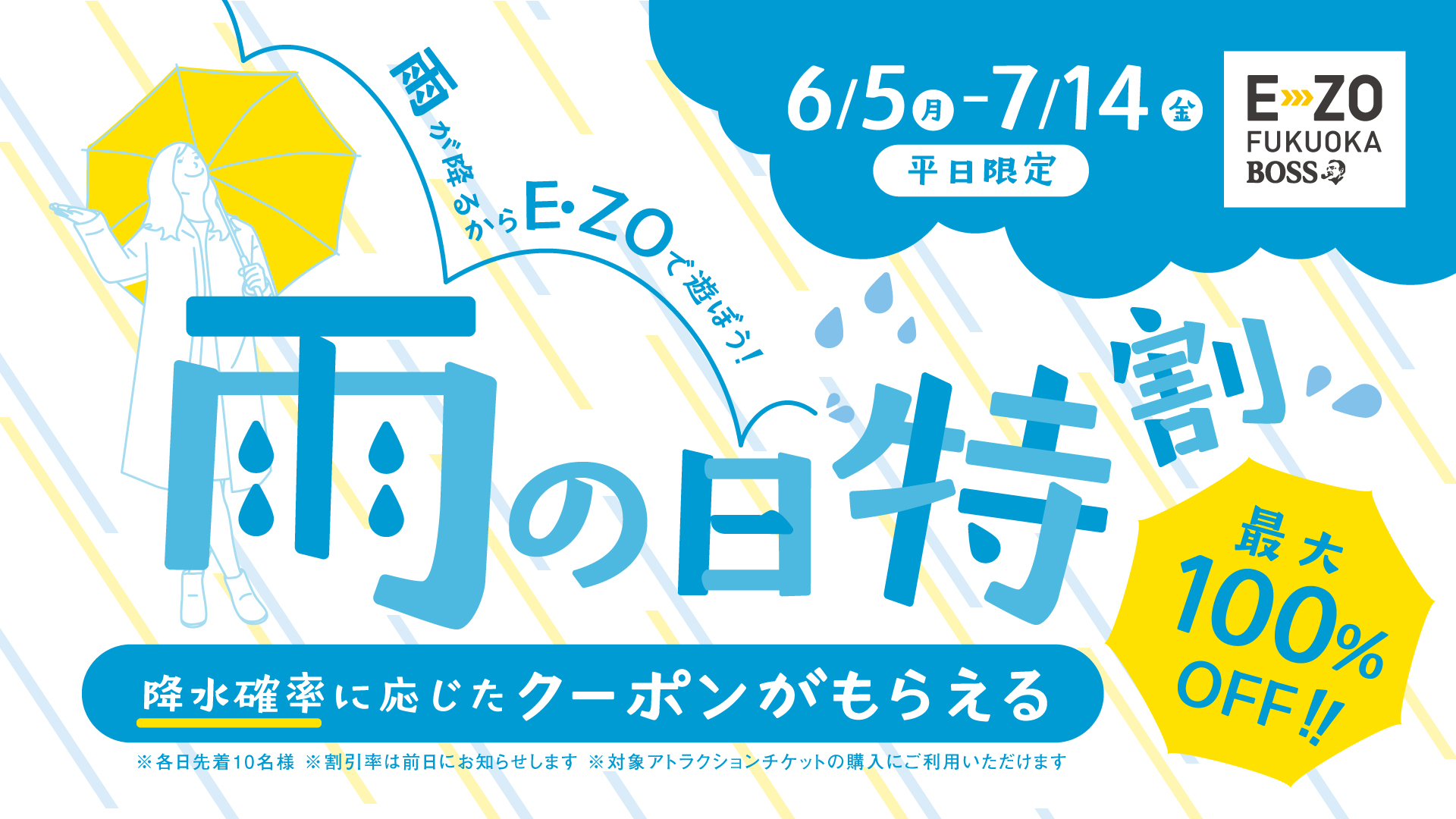 On rainy days, let's play E・ZO at a great price, even if it rains! From June 5th (Monday) to July 14th (Friday) only on weekdays, "rainy day special discount" will be implemented! Depending on the probability of rain in Fukuoka Prefecture, attraction tickets are discounted ♪ If the probability of rain is 100%, you can get 100% off! ! In addition, you will receive a 10% OFF coupon that can be used at MLB café FUKUOKA! Play with E・ZO and get through the gloomy rainy season! Limited to 10 people each day, so please arrive early☆
Rainy day special discount overview
Implementation schedule
【June】
5th (Mon) - 9th (Fri), 12th (Mon) - 16th (Fri), 19th (Mon) - 23rd (Fri), 26th (Mon) - 30th (Fri)
【July】
3rd (Mon) to 7th (Fri), 10th (Mon) to 14th (Fri)
Discount rate notification method
We will inform you of the probability of precipitation in Fukuoka Prefecture from 12:00 to 18:00 on the following day, which will be announced by the Japan Meteorological Agency at 17:00, on BOSS E・ZO FUKUOKA Twitter official account "@EZOFUKUOKA". The discount rate is the same as the probability of precipitation.
Example: 20% discount if the probability of precipitation is 20%, 100% discount if the probability is 100%
*The first day will be announced on June 4th (Sunday), and the final day will be announced on July 13th (Thursday).
*If the rain probability is 0%, there will be no Twitter notification.
Number of coupons distributed
First 10 people each day
Coupon delivery method
Follow the official BOSS E・ZO FUKUOKA Twitter account "@EZOFUKUOKA" and present the corresponding tweet at BOSS E・ZO FUKUOKA 3F information. We will give you a coupon code that can be used at the target attraction and a 10% OFF coupon that can be used at the 3F MLB café FUKUOKA.
Target attraction
RF Superb Attraction SMBC Nikko Securities Experience "Tube Slider "
7F I'm home!! Poop Museum FUKUOKA presented by CHIKYUJIN
6F Virtual Experience Area Crédit Agricole (excluding point-based tickets)
6F Immersive Museum FUKUOKA supported by FORTINET
5F teamLab Forest Fukuoka – SBI SECURITIES
4F OH Sadaharu Baseball Museum (including 89 park tickets)
*7F Yoshimoto Fukuoka Daiwa Fund Wrap Theater and 1F HKT48 Theater are excluded
how to buy
Please purchase at BOSS E・ZO FUKUOKA exclusive ticket site or the ticket vending machine in the building. When purchasing a ticket, if you enter the coupon code before payment, the discount will be applied to your bill.
Notes

・Attraction coupons can only be used once on the day.


・Attraction tickets can be purchased up to 1 per coupon.
・MLB café FUKUOKA 10% OFF coupon is valid only on weekdays until July 14th (Friday).
・Please present the MLB café FUKUOKA 10% OFF coupon at checkout. Cannot be combined with other discounts or gift certificates.
・Please be sure to check the precautions when purchasing attraction tickets. By completing your purchase, you agree to all terms and conditions.
・The entrance to MLB cafe FUKUOKA is in front of the Immersive Museum sign on the left. Please line up with your companion along the fence.
・It is prohibited to take a place by leaving only luggage and sheets, and to cut in line.
・The first 10 people will be served, so we may not be able to give you the coupon even if you line up. note that.
Inquiries about BOSS E・ZO FUKUOKA
Please contact us using the inquiry form below.