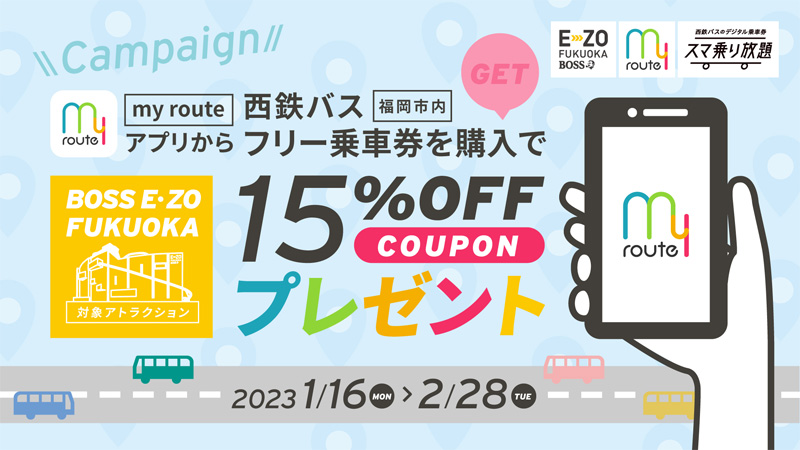 During the period from January 16 (Monday) to February 28 (Tuesday), if you purchase the "Nishitetsu Bus Fukuoka City Free Ticket" with the "my route app", you can use the attractions of BOSS E・ZO FUKUOKA. We will carry out a campaign to present a coupon that can be used at 15% OFF.
Get on the Nishitetsu Bus and enjoy E・ZO at a great price!
Implementation period
January 16 (Mon) - February 28 (Tue)
*From January 28th (Sat) to February 1st (Wed), there will be no coupon gift due to the renewal of the my route app. Please note that this period is subject to change without notice.
Target ticket
・Nishitetsu Bus Fukuoka city free ticket (6-hour ticket)
・Nishitetsu Bus Fukuoka city free ticket (24-hour ticket)
Discounted attractions
RF Superb Attraction SMBC Nikko Securities "Tube Slider" "Rail Coaster" "Climbing & Bouldering "
6F Virtual Experience Area Crédit Agricole
5F teamLab Forest Fukuoka – SBI SECURITIES
4F OH Sadaharu Baseball Museum Supported by Lipovitan D
89 parks in the museum
Coupon acquisition method

※The image is an image

When you purchase an eligible ticket within the my route app, a 7-digit coupon code will be displayed in a pop-up.
How to use coupon
Please purchase a ticket at BOSS E・ZO FUKUOKA exclusive ticket site or the ticket vending machine in the building. If you enter the 7-digit coupon code before purchasing, you will get 15% off your bill.
Notes
・The paper ticket "Fukuoka city 1-day free ticket" is not eligible.
・Cannot be used in combination with other discounts, except discounts for people with disabilities.
・You can purchase up to 10 tickets at a time.
・When purchasing tickets, please check the notes for each attraction on the official website.
What is the my route app?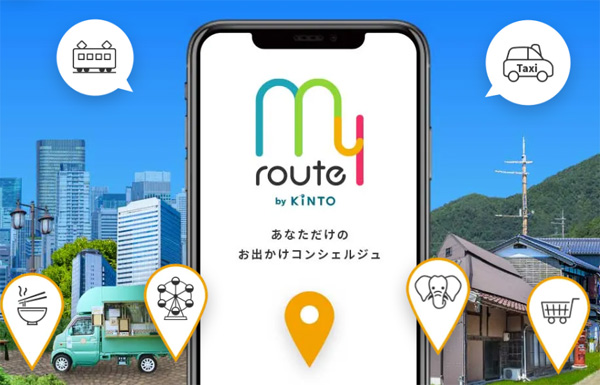 An outing concierge app that collaborates with Toyota Financial Services Co., Ltd. and public transportation to make traveling more freely and more enjoyable.
In addition to route search, digital ticket purchase, outing spot search, confirmation of real-time information on some vehicles, calendar linkage function, etc. The service will be developed mainly in Kyushu, and the corresponding area will be gradually expanded.
>"my route" official website
Nishitetsu Bus Digital Ticket Smartphone Unlimited Ride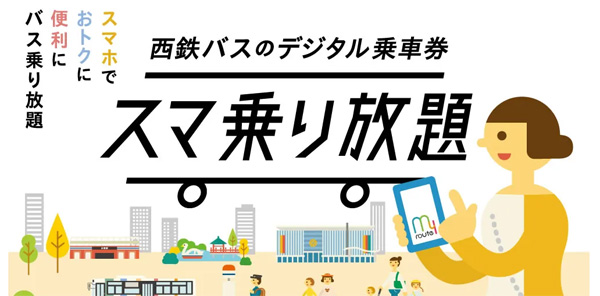 Enjoy unlimited bus rides conveniently with your smartphone.
This is a digital ticket that allows you to get on and off the buses running in Fukuoka City as many times as you like within the time limit. Please use it for sightseeing, shopping, and work.
>Click here for the official website of "Nishitetsu Bus Digital Ticket Smartphone Unlimited Ride"