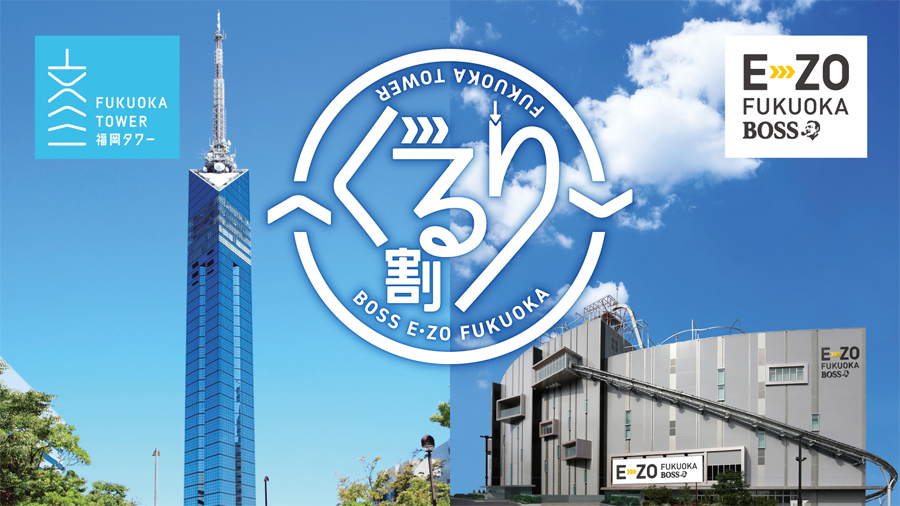 BOSS E・ZO FUKUOKA and Fukuoka Tower will start a mutual discount service "Gururi-wari" on Saturday, July 17th, where you can receive discounts by presenting tickets for each facility.
BOSS E・ZO FUKUOKA and Fukuoka Tower is about 15 minutes on foot, so let's enjoy both and enjoy the Momochi area!
BOSS E・ZO FUKUOKA × Fukuoka Tower "Gururiwari"
Start date: Saturday, July 17, 2021 * Tickets after the start date are valid
① BOSS E・ZO FUKUOKA official website: https://e-zofukuoka.com/
Present your Fukuoka Tower observation ticket on the 3rd floor / information to receive a "10% OFF target attraction" coupon. You can use it at the BOSS E・ZO FUKUOKA
Target attraction
・ RF Superb Attraction SMBC Nikko Securities "Tube Slider" "Rail Coaster" "Climbing & Bouldering"
・ 6 / 7F Virtual Experience Area
・ 6F CHIKYUJIN presents Unko Museum powered by HAWKS * Held for a limited time until 10/24 (Sun)
・ 5F teamLab Forest Fukuoka – SBI Securities
・ 4F OH Sadaharu Baseball Museum Supported by Lipovitan D
* Only for same-day tickets.
② Fukuoka Tower Official Website: https://www.fukuokatower.co.jp/
You can purchase the "Fukuoka Tower Observation Ticket" at 20% off the general price by presenting the ticket for the BOSS E・ZO FUKUOKA
* Please present before purchasing the ticket.
[Precautions for use]
・ Tickets after Saturday, July 17, 2021 can be presented even before the day of use of each facility.
・ Please present the ticket for each facility before purchasing. We do not offer discounts by presenting after purchase.
・ Cannot be used in combination with other discounts.
・ To prevent infection with the new coronavirus, it is subject to change without notice. Thank you in advance for your understanding.