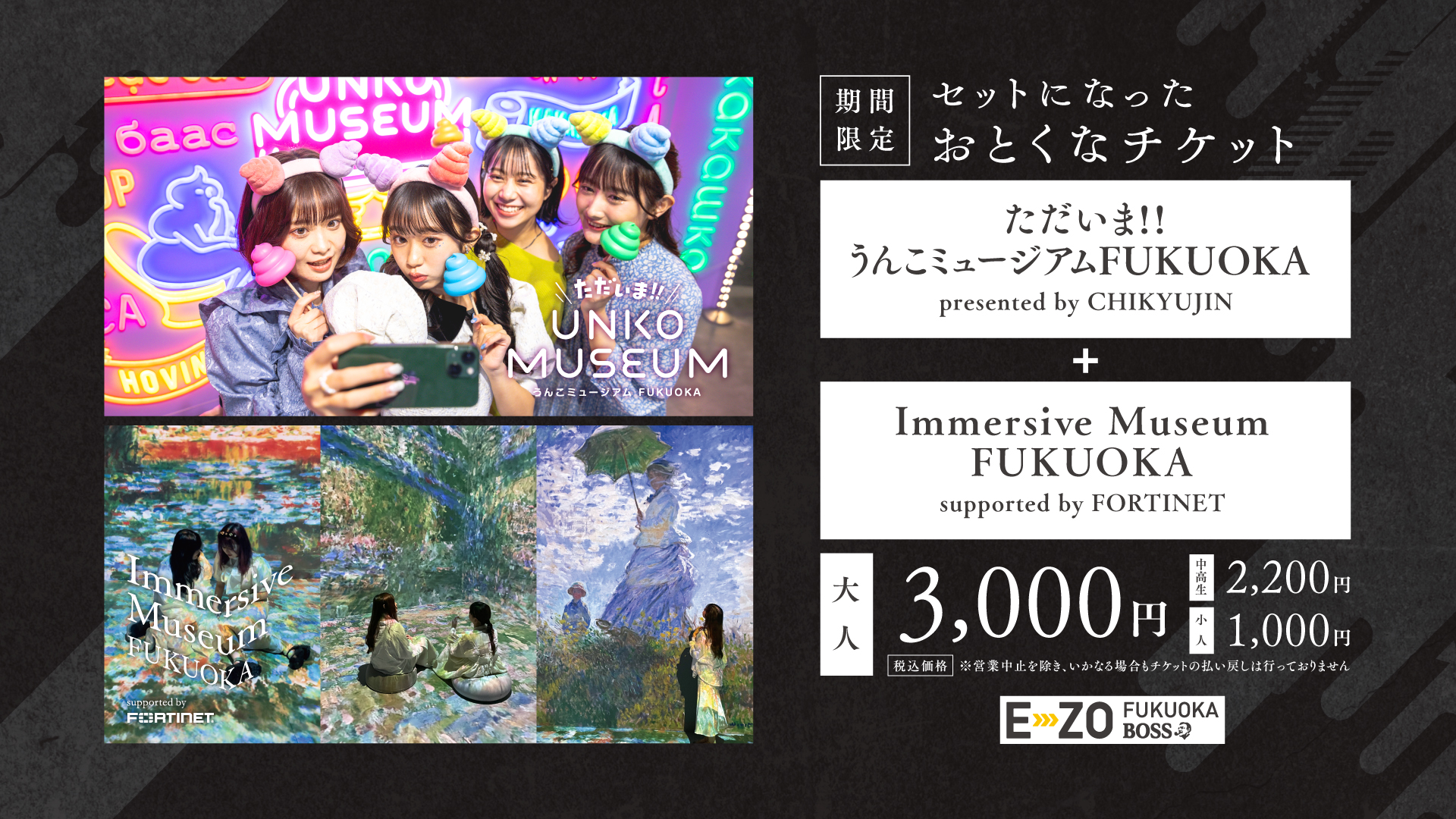 BOSS E・ZO FUKUOKA is currently holding a very popular limited-time event "I'm home!! Unko Museum FUKUOKA presented by CHIKYUJIN" and "Immersive Museum FUKUOKA supported by FORTINET". Sales start from 00! Enjoy the event without a mistake in the photo!
■Ticket contents
Admission ticket set for the following 2 facilities
·I'm home! Poop Museum FUKUOAKA presented by CHIKYUJIN
・Immersive Museum FUKUOKA supported by FORTINET
■ Target schedule
June 17th (Sat) - 30th (Fri)
* The target period is subject to change.
■ Sales period
Friday, June 16, 10:00-
■ Fee
Adult (university student ~): 3,000 yen (Regular price: 3,500-3,700 yen)
Junior and senior high school students: 2,200 yen (list price: 2,600 to 2,800 yen)
Children (4 years old and over): 1,000 yen (regular price: 1,300 to 1,500 yen)
■ How to purchase
Please purchase the "Immersive Museum + Poop Museum Set" at BOSS E・ZO FUKUOKA official ticket site and the venue ticket machines.
What is Unko Museum?
"Unko Museum" is a state-of-the-art amusement space with the theme of poop. The "Unko Museum", which was born in 2019 as an unprecedented form of entertainment and became a hot topic, has been held for a limited time in Tokyo's "Unko Museum TOKYO", Yokohama, Shanghai, and Hiroshima, with a total of 1 million people experiencing it. that's all! The year before last, it was also held at BOSS E・ZO FUKUOKA, mobilizing 100,000 people in eight months and creating a great response.
>Click here for the official website
What is Immersive Museum Fukuoka?
"Immersive Museum FUKUOKA" is a state-of-the-art art museum that has become a hot topic on social media and on TV. Feel the art with your whole body in the immersive video and powerful sound that fills the vast indoor space. Lie down on the cushions provided and give yourself up to the comfortable space... You can enjoy it with your friends or as a couple.
> Click here for official Instagram
>Click here for the official website