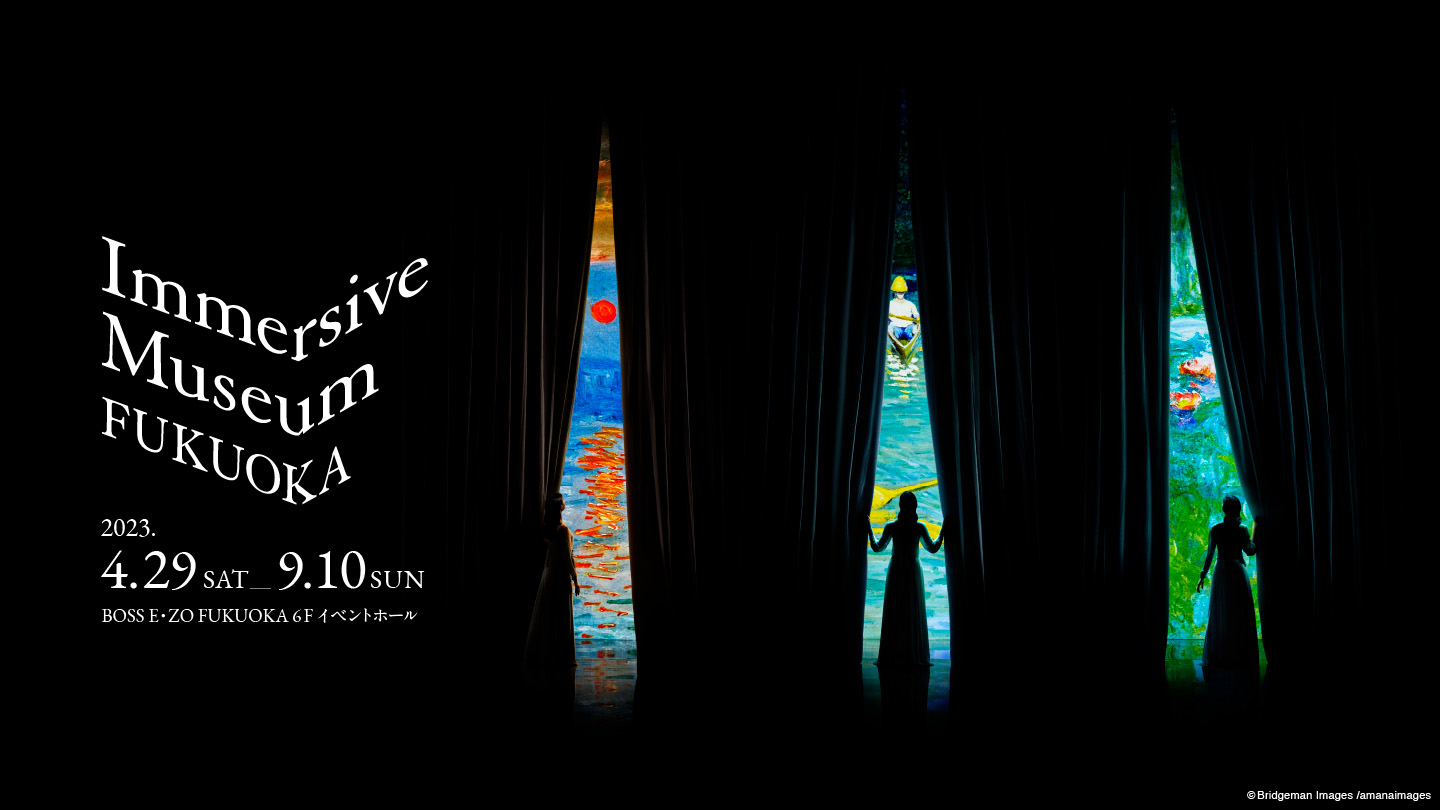 Dive in Art From paintings to appreciate to paintings to experience. "Immersive Museum FUKUOKA", an experience-based museum where you can immerse yourself in the world of "Impressionist" artworks such as Monet, will be held at BOSS E・ZO FUKUOKA from Saturday, April 29th! The state-of-the-art art experience program, which was held in Tokyo last summer and attracted 190,000 people in about four months, will be held for the first time in western Japan! Enjoy the ultimate art experience that goes beyond the act of "seeing" and "appreciating" through sight, as if you were immersed in the world of masterpieces with your whole body through sound and images!
Dive in Art
From paintings to appreciate to paintings to experience. This is the place to change the relationship between you and art. Numerous masterpieces projected on one side of the field of vision. You instantly enter the world of painting. And the masterpieces begin to move beyond the time of several years. That is, the story that the painters once wanted to leave untouched begins to move. Would you like to experience the world that Monet, Degas, and Renoir saw?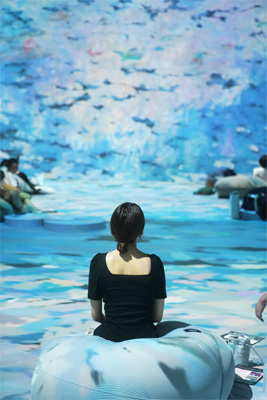 Highlight introduction
Experience art with your whole body with immersive images that fill a vast space and powerful sound!
Combining special sound effects with immersive images projected on all walls and floors, the world of masterpieces is recreated in a vast space. You can feel the world drawn by Impressionist painters with your whole body beyond sight and hearing. Once you find your favorite position, sit on the cushion and spend a relaxing time floating in the work.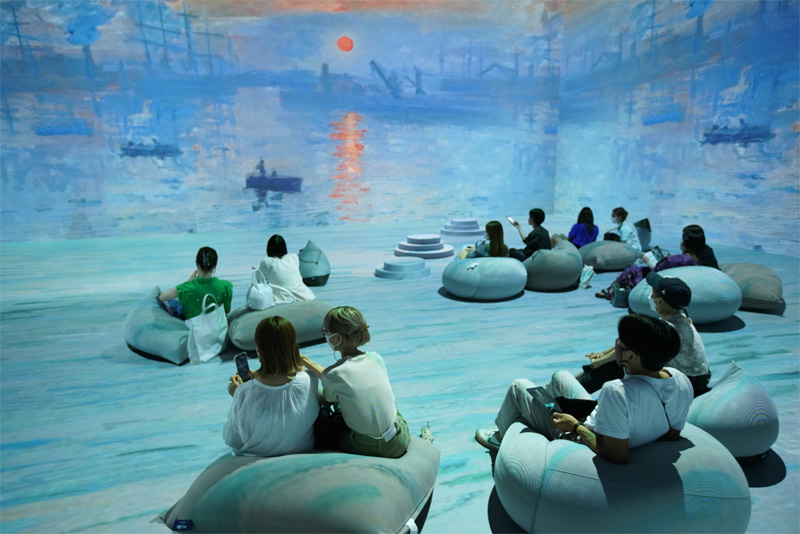 A new art "appreciation" experience that reproduces the world seen from the perspective of Monet and others!
Impressionist masterpieces such as Claude Monet's "Water Lilies", Degas' "Dancer", and Renoir's "Moulin de la Garette Ball" are visualized. A theme was set for each scene, and in addition to simply visualizing the original painting work, many unique elements were added to allow deeper immersion into the world of the work. "Impression, Sunrise" uses the latest CG technology to fuse the scenery that Monet would have seen in the 19th century with actual paintings. The "Impressionist technique" allows you to experience the process of creating a painting by sprinkling vivid paints, which is also a feature of Impressionism, and changing the scale. Through these various techniques, you can enjoy a "perspective change experience" that makes you feel like you are a painter yourself.
About the Immersive Museum
This is a new type of experiential art exhibition that converts world-famous works of art into video content and provides immersive video and a special audio experience that fills the walls and floors of a vast indoor space. We will provide visitors with a new "viewpoint" of art appreciation by providing an "immersive" style from the conventional "appreciation" style. The "Immersive Museum" is a symbol of "Art 2.0" that expands the art experience in Japan by developing new age art content from analog art like conventional museums to cutting-edge digital art. Held in Nihonbashi, Tokyo from July to October 2022, it attracted more than 190,000 people.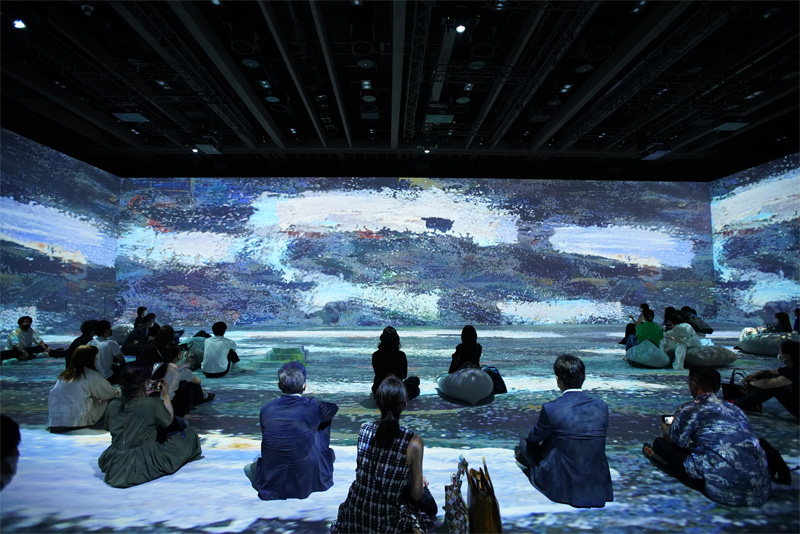 Event outline
name
Immersive Museum FUKUOKA
Venue
2-2-6 Jigyohama, Chuo Ward, Fukuoka City, Fukuoka Prefecture
BOSS E・ZO FUKUOKA 6F Event Hall
Holding period
Saturday, April 29, 2023 to Sunday, September 10, 2023
admission fee
(tax included)
Adult 1,900 yen
Junior high and high school students 1,400 yen
Children (4 years old and over) 600 yen

*Children under the age of 3 are free.
However, a maximum of 2 people can enter per 1 guardian, who must be accompanied by a guardian.
Organizer
Fukuoka Softbank Hawks Co., Ltd.
Planning and production
Dentsu Inc., Drill Inc.