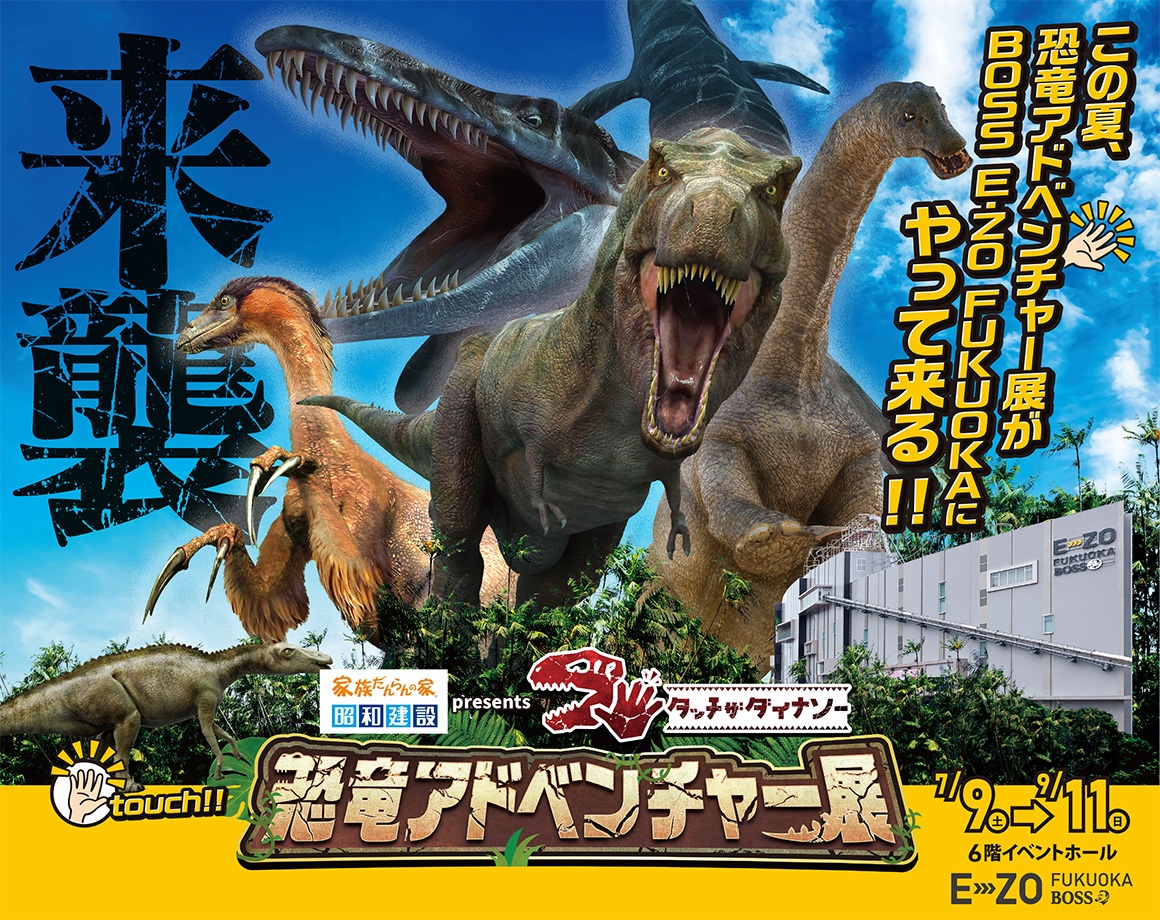 Tickets for "Showa Construction presents Touch the Dinosaur Adventure Exhibition" to be held on the 6th floor of "BOSS E・ZO FUKUOKA" from Saturday, July 9th will finally be released on Wednesday, June 1st! Furthermore, the event period will be expanded from 8/28 (Sun) to 9/11 (Sun)! There are plenty of contents that can only be done here, such as touching precious real fossils and experiencing fossil excavation! There is also a maze corner with the theme of exploring an island inhabited by giant dinosaurs. Let's dive into the world of dinosaurs with the whole family during the summer vacation!
Ticket sale
Release date
Wednesday, June 1, 2022 10:00
Hours
Business hours vary depending on the date of visit, so please check the BOSS E・ZO FUKUOKA official website (https://e-zofukuoka.com/).
Outline of "Showa Construction presents Touch the Dinosaur Adventure Exhibition"
name
Showa Construction presents Touch The Dynasaw Dinosaur Adventure Exhibition
Venue
2-2-6 Jigyohama, Chuo-ku, Fukuoka City, Fukuoka Prefecture
BOSS E・ZO FUKUOKA 6F
Holding period
July 9th (Sat) -September 11th (Sun), 2022
Admission fee (tax included)
Adults (high school students and above) 1,600 yen
Children (elementary school students and above) 900 yen
Infants (3 years old to preschoolers) 500 yen
Ticket sales
https://e-zofukuoka.com/dinosaur/
Notes
・ We are not responsible for any injuries, losses, damages, troubles, etc. in this facility.
・ Children under the age of 9 must be accompanied by a guardian to enter.
・ Customers who enter the venue are requested to wear a mask at all times.
・ We will measure the temperature of the customer at the entrance. Customers with poor physical condition, such as fever of 37.5 degrees or higher and strong fatigue (malaise), are not allowed to enter.
・ Tickets will not be refunded under any circumstances except when the business is closed.