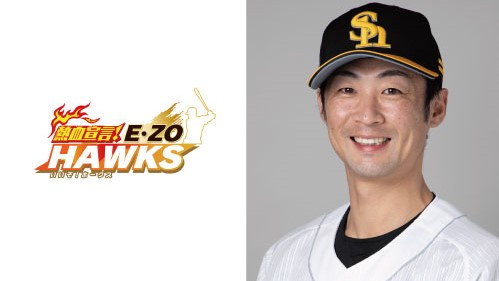 On October 23rd (Sunday), "Hot-blooded declaration! E・ZO HAWKS" has decided to make a live appearance by Kenji Akashi, who retired from active duty this season only.
On the day of the event, you can observe from outside the studio (OH Sadaharu Baseball Museum Supported by Lipovitan D). To visit, you need to purchase a ticket for the OH Sadaharu Baseball Museum Supported by Lipovitan D or an 89 Park ticket.
After the broadcast ends on the day, we plan to hold a rock-paper-scissors tournament only for those who came to the studio to play. If you win the rock-paper-scissors game against Akashi, you will receive a gift signed by Kenji Akashi. Please come and visit us at the studio.
You can watch the public broadcast programs on Sports Live+.
Also, it will be distributed on Hawks TV at a later date, so please watch it.
program name
Hot-blooded Declaration! E-ZO HAWKS
First broadcast date and time
October 23 (Sun) 11:00-11:30 (Sports Live+ only)
Performer
MC: Nobosemon Nabe
Commentary: Tadashi Settsu
Assistant: Yu Kawasaki
Guest: Kenji Akashi
public broadcast
Sports Live+: https://www.sportslive-plus.com/baseball/ezo-hawks/
* Hawks TV: https://tv.softbankhawks.co.jp/
In addition, it is prohibited to wait for the performers to come out and ask for autographs, handshakes, and photography.