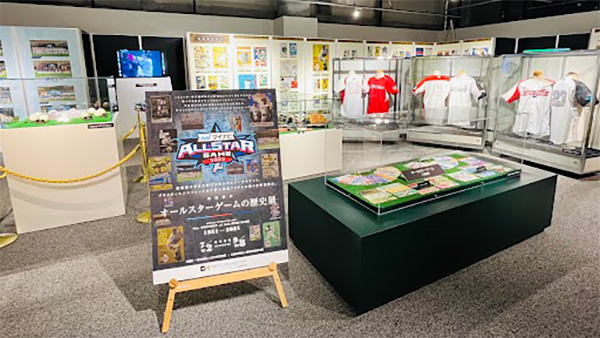 BOSS E・ZO FUKUOKA 4F "OH Sadaharu Baseball Museum Supported by Lipovitan D" is an additional exhibition from the special exhibition "All-Star Game History Exhibition" currently being held.
We also exhibit autographed colored papers of all the players who participated in the All-Star Game, which was a heated battle at the PayPay Dome the other day, and the gloves and bats of the All-Star Game specifications actually used by the Hawks players. It will be a special exhibition until September 8th (Thursday), so please come and visit us at this opportunity!
> Click here for details on OH Sadaharu Baseball Museum Supported by Lipovitan D
Special exhibition "History of All-Star Games"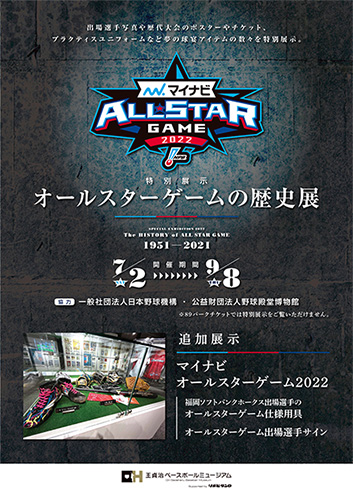 In addition to admission tickets and event posters since the first tournament in 1951, when the two-league system was introduced, group photos are on display. From the design at that time to the present, you can see the transition with the times.
In addition to the display of the practice uniforms of players who have participated in past All-Star Games, there is also an exhibition of autographed balls for the 10 years that Chairman Sadaharu Oh has participated in, as well as nostalgic footage of past events held in Fukuoka.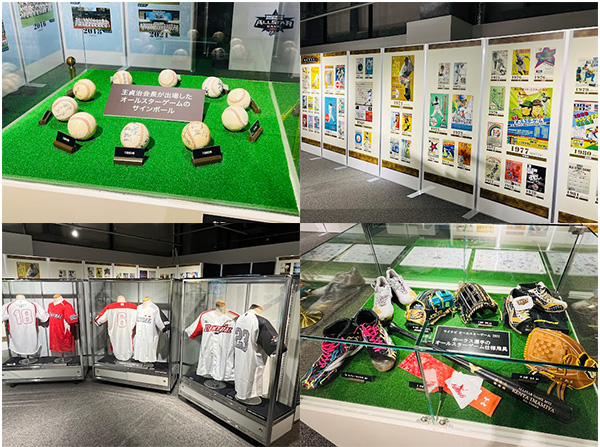 Implementation period
July 2, 2022 (Sat) -September 8, 2022 (Thursday)
Venue
BOSS E・ZO FUKUOKA 4F
OH Sadaharu Baseball Museum Supported by Lipovitan D
Special exhibition room
Admission fee (tax included)
Adults (16 years old and over) 1,800 yen
Children (7 to 15 years old) 900 yen
* Children (12 years old or younger) must be accompanied by a guardian to enter. (Parents need to purchase a ticket)
* Free for preschoolers (charged from the first grade of elementary school)
Exhibit contents
1. Successive all-star collective panel display
2. Past All-Star Poster Reproduction Display
3. Past all-star ticket display
Four. 4 years of footage from Fukuoka (1996/2001/2010/2016)
Five. Exhibition of practice uniforms of past players
6. Display of the ball autographed by Chairman Wang at the time of All-Star appearance


New

7. Display of all-star equipment


New

8. All-Star Game player autograph panel