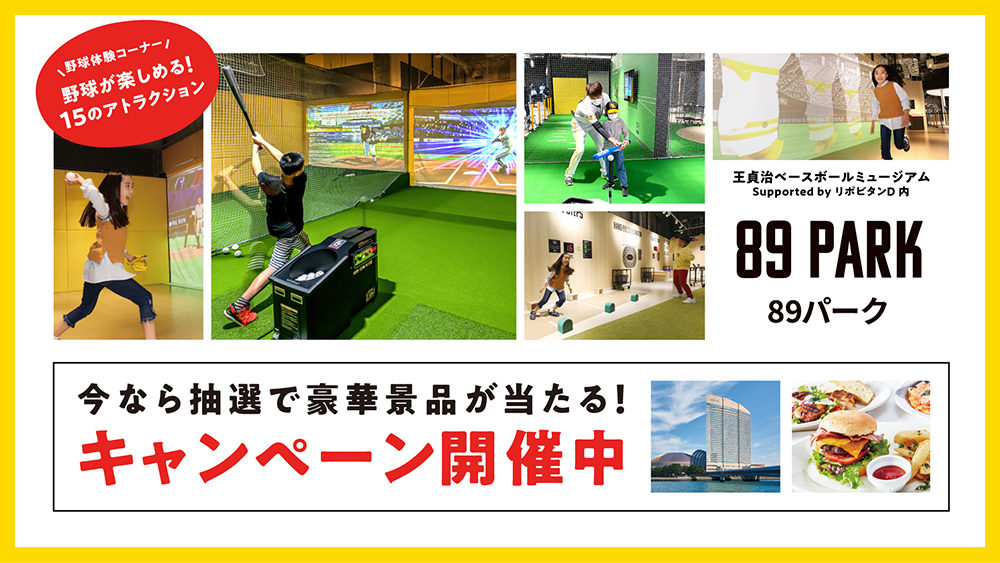 Hilton Fukuoka Sea Hawk for those who enter "OH Sadaharu Baseball Museum Supported by Lipobitan D" or "89 Park" during the period when the TV commercial of "89 (Yakyu) Park" starts broadcasting (Fukuoka area) We are holding a campaign to win hotel gift certificates!
Please take this opportunity to OH Sadaharu Baseball Museum on the 4th floor ☆
Campaign period
October 30th (Sat) -November 30th (Tue)
prize
・ Hilton Fukuoka Sea Hawk Hotel 10,000 yen gift certificate for 2 people
・ 3rd floor MLB café FUKUOKA 5,000 yen meal ticket for 4 people
Application method
During the period, one application form will be given to those who enter BOSS E・ZO FUKUOKA 4th OH Sadaharu Baseball Museum Supported Lipovitan D or 89 Park.
Please fill in the required items and post it in the application box set up in the museum.
Winner announcement
Winners will be decided after a strict lottery.
Winners will be announced when prizes are shipped.
Notes
* One application form will be given for each admission ticket.
* Winning items can only be shipped within Japan.
* If multiple people living at the same address win, only one group will win.