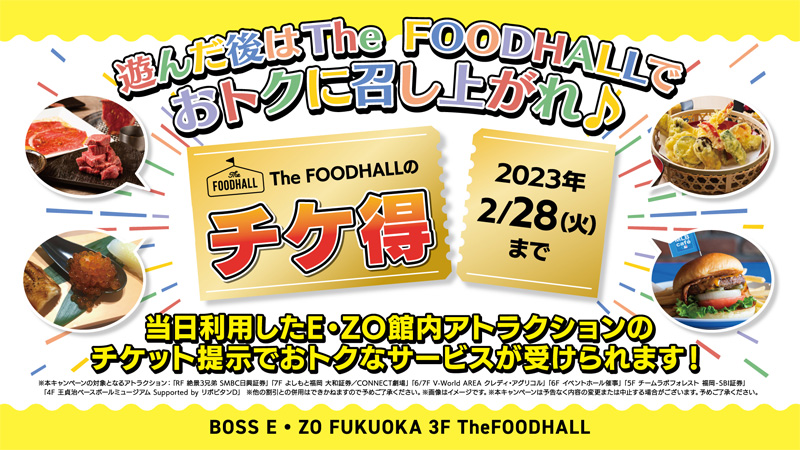 At BOSS E・ZO FUKUOKA 3F "The FOODHALL", for a limited time from December 26th (Monday) to February 28th (Tuesday), 2023, you can get a great deal by presenting your attraction ticket at each store. We will carry out a campaign to receive the service ♪ After enjoying the attractions, enjoy delicious gourmet food at a great price ☆
Campaign conditions
Please present the ticket for the target attraction when ordering at the target store.
*Attraction tickets are valid only on the day of the event.
* It does not matter before or after using the attraction.
Implementation period
December 26, 2022 (Monday) to February 28, 2023 (Tuesday)
* "Ramen Danbo x Ramen Tavern Danbo" will be available from January 10, 2023 (Tuesday).
*"Oyster Hut Izo" will be a limited-time store.
Target attraction
RF Superb Attraction SMBC Nikko Securities "Tube Slider" "Rail Coaster" "Climbing & Bouldering "
7F YOSHIMOTO FUKUOKA DAIWA SECURITIES / CONNECT THEATER
6/7F Virtual Experience Area Crédit Agricole
6F Event Hall event
5F teamLab Forest Fukuoka – SBI SECURITIES
4F OH Sadaharu Baseball Museum Supported by Lipovitan D (including 89 Park tickets)
Service contents
Target stores
Content
Ramen Danbo x Ramen Tavern Danbo
1.5 times the amount of ramen noodles
* Children's ramen and Kaedama are not eligible
* Limited to orders at the time of the first order
Nikuyama dining room
1 soft drink service
*Excluding black oolong tea
Kyoto Tempura Flower Raft
mini dessert gift
Yakiniku Lean Nikugato
1 free highball or oolong tea
Fire Hall 4000
Dessert set (almond tofu & sesame dumpling) present
Kyushu Hakata Daikichi Sushi
5% off your bill
MLB café FUKUOKA
5% off your bill
* Goods are not eligible
Oyster hut
1 grilled rice ball as a gift
*Limited to customers who spend 2,000 yen or more on meals
Notes
・This service is limited to those who use eating and drinking. It is not possible to use only services and benefits.
・Please note that this offer cannot be combined with other discounts.
・In principle, this service will be provided for the same number of people as the number of people who purchased tickets.
・ Please note that stores other than the above are not eligible for this campaign.
・This campaign is subject to change or cancellation without notice. Please note.
・The store may not be open on certain days, such as when the store is closed. Please check the official website before visiting.