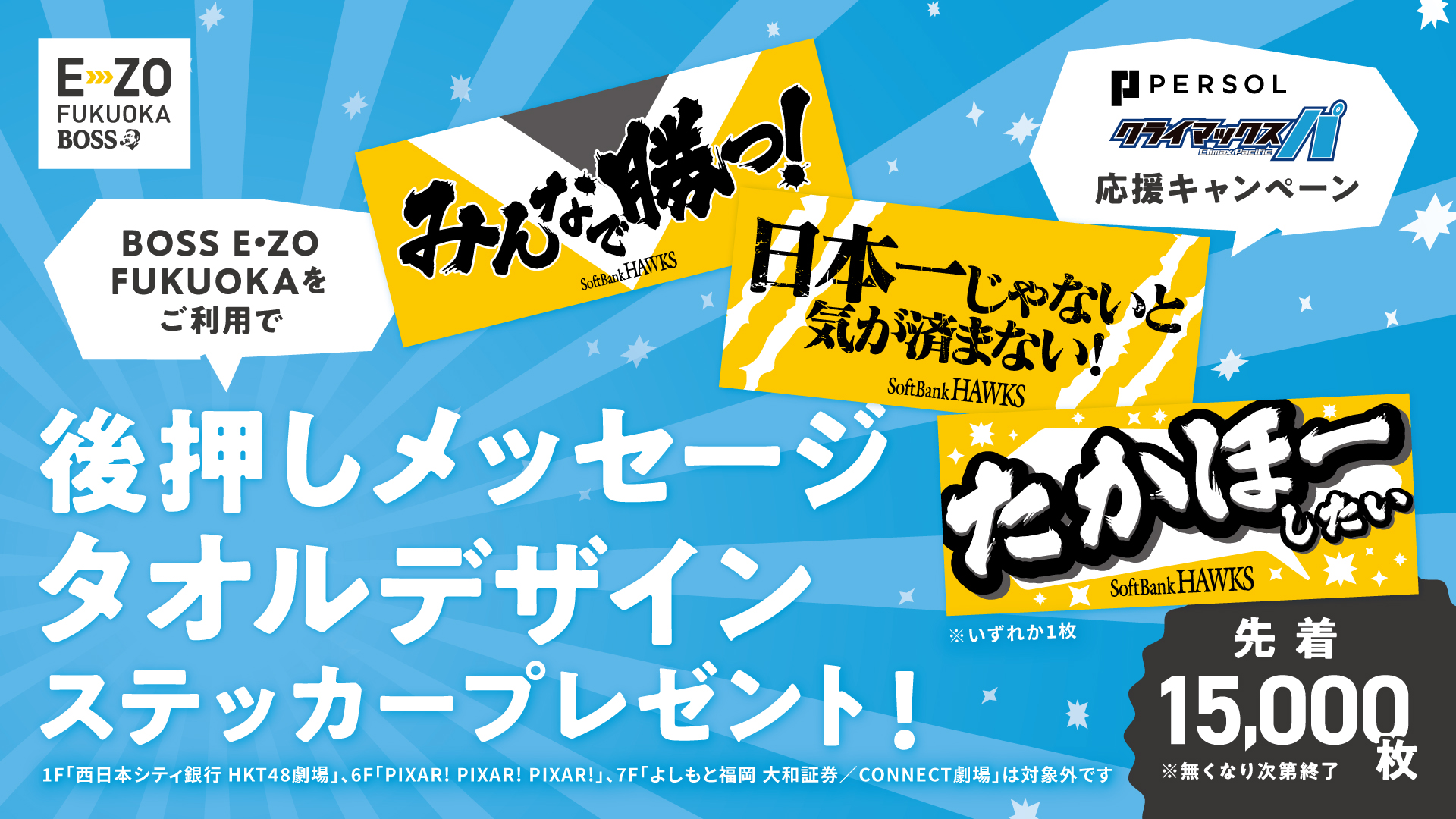 For the first three days of the "2022 Persol Climax Series Pa" held at PayPay Dome from October 8th (Sat) to 10th (Mon/holiday), you can use BOSS E・ZO FUKUOKA to get a boost message towel design sticker. Present! There are 3 types of stickers, please choose your favorite design ☆
Boosting Message Towel Design Sticker Present Details

Implementation schedule
October 8th (Sat) - 10th (Mon/holiday)
First 15,000 people
*Ends as soon as supplies run out
*If there is no game held on October 10 (Monday/holiday), it will not be held.
Gift delivery method
Please use BOSS E・ZO FUKUOKA attractions or restaurants during the period. For attractions, one sticker will be given for each ticket, and for restaurants, one sticker will be given for each transaction.
* Customers using The FOODHALL (excluding MLB café FUKUOKA), please present the receipt at the time of payment at the special booth in front of "Yakiniku Akami Nikugato".
Present contents
Boosting message towel design sticker (3 types in total)
Target stores
RF Superb Attraction SMBC Nikko Securities "Tube Slider" "Rail Coaster" "Climbing & Bouldering"
6 / 7F Virtual Experience Area Crédit Agricole
5F teamLab Forest Fukuoka – SBI SECURITIES
4F OH Sadaharu Baseball Museum Supported by Lipovitan D (including 89 Park tickets)
3F The FOODHALL (including MLB café FUKUOKA)
PayPay Dome Tour
* 7F "YOSHIMOTO FUKUOKA DAIWA SECURITIES / CONNECT THEATER", 6F "PIXAR! PIXAR! PIXAR!", 1F "Nishi-Nippon City Bank HKT48 Theater" are not eligible.