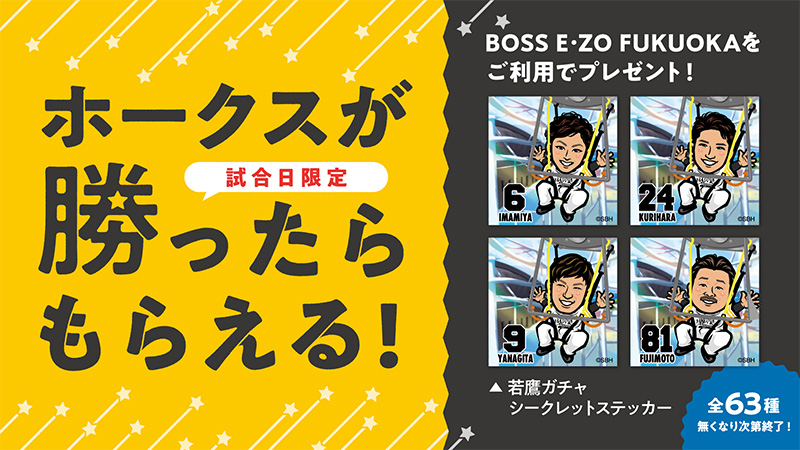 If the Hawks win at the PayPay Dome Hawks official game, you will receive a Wakataka gacha secret sticker by using BOSS E / ZOFUKUOKA! Let's fully enjoy the dome even after the match ☆
Limited sticker present overview

Implementation date
August 5th (Friday) ~ Ends as soon as it runs out
Gift method
After the match, please use the restaurants or attractions inside BOSS E・ZO FUKUOKA. We will give you one sticker by presenting the game ticket on the day.
Present details
Wakataka gacha secret sticker (63 types: Director Fujimoto + 62 players)
Target stores
RF Superb Attraction SMBC Nikko Securities "Tube Slider" "Rail Coaster" "Climbing & Bouldering "
6/7F Virtual Experience Area Crédit Agricole
5F teamLab Forest Fukuoka – SBI SECURITIES
4F OH Sadaharu Baseball Museum Supported by Lipovitan D
Each store in 3F The FOODHALL, MLB café FUKUOKA
* 6F Event Hall events are not eligible
Notes
・Attractions may be closed depending on when the game ends.
・Only the match ticket on the day of the present is valid.