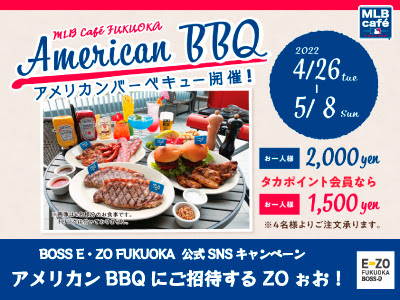 For Golden Week from April 26th (Tuesday) to May 8th (Sunday), MLB Café FUKUOKA has a plan where you can enjoy BBQ at a great deal on the terrace! Therefore, on BOSS E・ZO FUKUOKA official Twitter & Instagram, we will carry out a campaign to win "MLB Café FUKUOKA's American BBQ" ☆
> Enjoy PayPay Dome de American BBQ!
Application method
[Twitter] Follow BOSS E・ZO FUKUOKA official account "@EZO FUKUOKA" & complete application by retweet the target post
[Instagram] Follow BOSS E・ZO FUKUOKA official account "@ezofukuoka" & like the target post! Application completed at
Application period
April 26th (Tuesday) -April 30th (Saturday) 23:59
prize
MLB Café FUKUOKA American BBQ 1 group 4 people
* Beverages must be ordered separately.
Winning number
Twitter / Instagram 2 groups each 8 people
Available date
May 6th (Fri) -May 8th (Sun), 2022
* Depending on the seating situation, we may not be able to guide you.
Winning notification
Only those who win within a few days after the application deadline will be contacted by DM (direct message) from BOSS E・ZO FUKUOKA
Redemption method
Please reserve a seat by using the contact information on the DM within 2 days after contacting the winner.
Notes
・ The result of the lottery will be announced upon notification of the winning. We will not contact anyone other than the winners.
・ The winner will be notified by DM (direct message), so please be sure to follow the BOSS E・ZO FUKUOKA official account.
・ If your account is set to private and DM is set to be rejected, you will not be eligible for the lottery.
・ If you do not make a seat reservation by the above deadline, the prize will be invalidated. The right as a winner cannot be transferred to a third party.
・ If you are a minor, please apply after the parental authority agrees to the precautions.
・ Winners will be responsible for the cost of traveling to BOSS E・ZO FUKUOKA, accommodation, and parking fees on the day of the event.
・ In case of rain, we may offer an alternative plan.