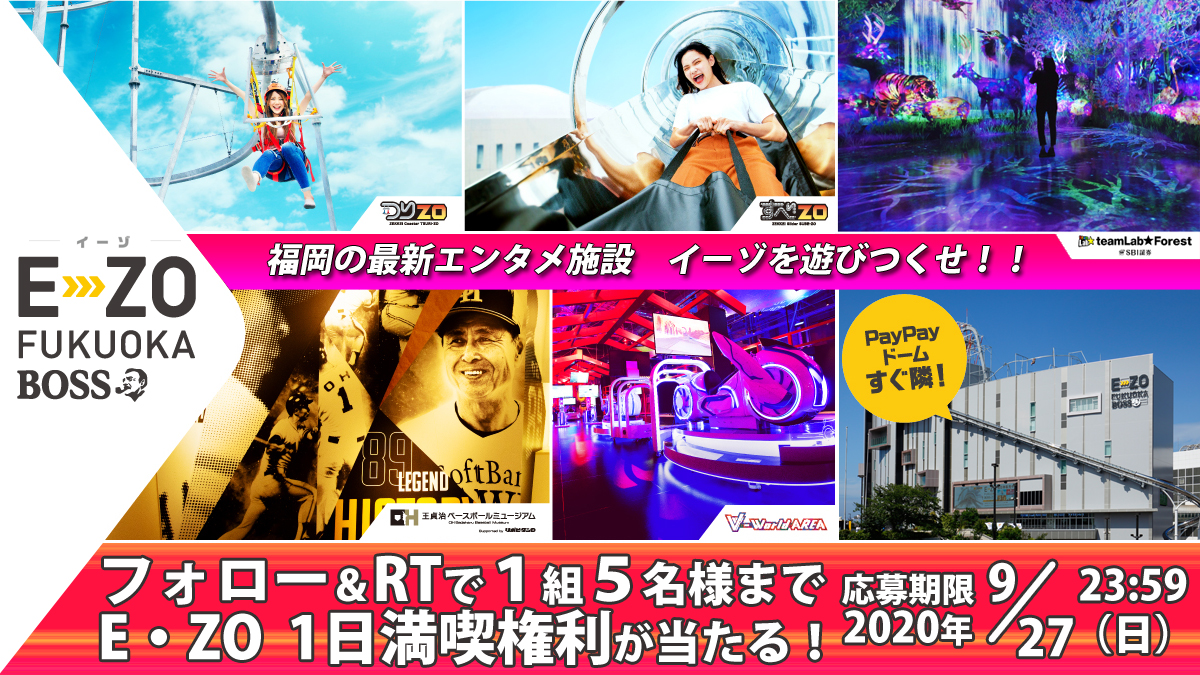 BOSS E・ZO FUKUOKA has exceeded 100,000 cumulative visitors on September 18th (Friday), which is the 59th business day since its opening. We would like to express our gratitude to everyone who patronized us, and we will carry out a Twitter campaign to win the "BOSS E・ZO FUKUOKA One Day Enjoyment Right".
If you haven't come yet, haven't experienced all the floors, or if you want to experience it again, please apply!
We will continue to aim to be an entertainment facility that can be enjoyed 365 days a year, while giving further consideration to infection control so that everyone can visit us with peace of mind.
Campaign overview
Application method
① BOSS E・ZO FUKUOKA Official Twitter (@EZOFUKUOKA) Follow
② Retweet the target post
Application period
September 18th (Friday) -September 27th (Sunday), 2020 23:59
prize
BOSS E・ZO FUKUOKA One day enjoyment right
・ Superb Attraction SMBC Nikko Securities
(Rail Coaster SMBC Nikko Securities, Tube Slider SMBC Nikko Securities, Climbing & Bouldering SMBC Nikko Securities)
・ Virtual Experience Area (2-hour course)
・ TeamLab Forest Fukuoka – SBI SECURITIES
・ OH Sadaharu Baseball Museum Supported by Lipovitan D
You can enjoy it specially for free.
Winning number
Up to 5 people per group by lottery
Winning notification
Only the winners will be notified by DM (direct message) from BOSS E・ZO FUKUOKA official Twitter.
Notes
・ The winner will be notified by direct message, so please be sure to follow the BOSS E・ZO FUKUOKA official Twitter account.
・ After receiving the winning notification, please contact us by the designated method, such as contact information, by the designated deadline. Please note that if you do not contact us by the specified deadline, your prize will be invalidated. The rights as a winner cannot be transferred to a third party.
・ Personal information received from customers when applying will be used for contacting customers selected by Fukuoka SoftBank Hawks Co., Ltd. and will be processed promptly after the project is completed. Please refer to "About personal information" for the handling of personal information.
・ If you are a minor, please apply after the parental authority agrees to the precautions.
・ Due to bad weather, Rail Coaster SMBC Nikko Securities and Climbing & Bouldering SMBC Nikko Securities may not be available.
・ Winners will be responsible for the cost of traveling to BOSS E・ZO FUKUOKA, accommodation, and parking fees on the day of the event.