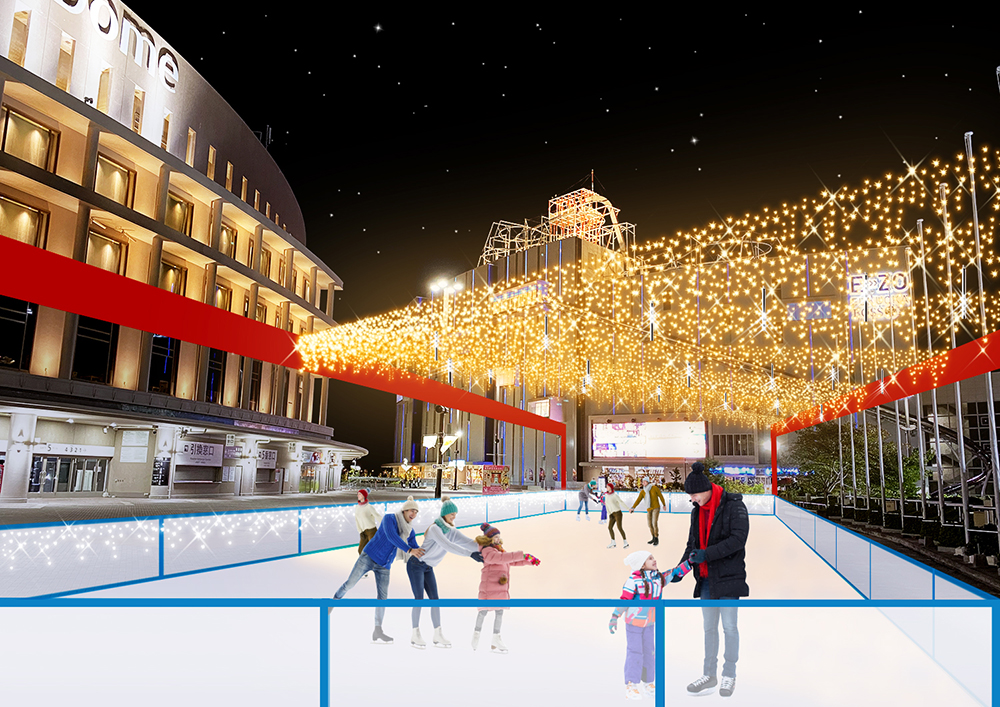 Let's play at the skating rink of PayPay Dome during the year-end and New Year holidays!
From December 28th (Tuesday) to January 4th (Tuesday) 2022, a skating rink made of resin panel that does not get wet even if you fall down and does not get cold is now available ♪ Even beginners, from children to adults, can enjoy playing. .. There is also a brilliant illumination on the skating rink, so there is no doubt that it will look great in the picture! Enjoy attractions and delicious meals at BOSS E・ZO FUKUOKA after slipping and slipping for the first time ♪

>BOSS E・ZO FUKUOKA also has limited-time attractions and limited menus!
PayPay Dome Skating Rink Details
Holding period
December 28, 2021 (Tuesday) -January 4, 2022 (Tuesday)
* Pause in the rain
* For service information BOSS E・ZO FUKUOKA Official Twitter I will inform you at
open time
11: 00-19: 00
* December 31st (Friday) only 11: 00-18: 00
Venue
In front of PayPay Dome 5 Gate (on the deck)
Selling price (hourly charge system)
Adults (16 years old and over): 800 yen
Children (4 to 15 years old): 600 yen
* One guardian (18 years old or older) must accompany one preschooler.
(Companions are requested to wear shoes rented at the venue for assistance)
* Not available for children under 3 years old

You can experience it for 20 minutes with one ticket.
The price includes a set of rental equipment such as shoes (15 cm to 29 cm), helmet, protector and gloves.
Please note that shoes cannot be worn barefoot.
Ticket sales location
BOSS E・ZO FUKUOKA 3F ticket vending machine
* Same-day sales only
Notes
・ Please be sure to check the notes when purchasing a ticket. By completing your purchase, you agree to all the precautions.
・ No refunds will be given for the convenience of the customer. Refunds will be given if you are unable to participate due to bad weather.
・ If the staff decides that you cannot participate safely, we may refuse to participate.
・ We do not accept the use of people who are drunk.
・ Be sure to follow the staff's instructions. We are not responsible for any damage or injury if you do not follow the instructions and precautions.
・ Please be careful when handling your baggage. For valuables, we recommend using the paid lockers on the 3rd floor of BOSS E・ZO FUKUOKA. We are not responsible for theft or loss of luggage at the venue.