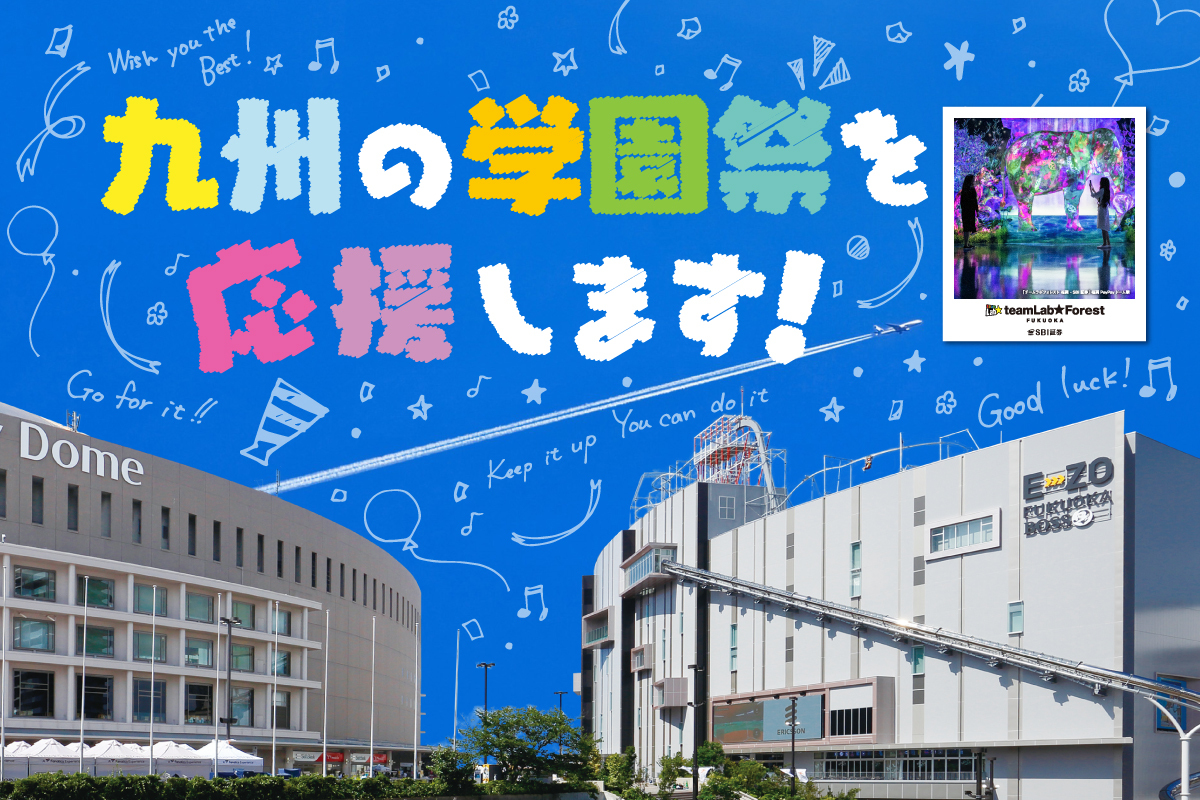 Fukuoka SoftBank Hawks Co., Ltd. is co-sponsoring the school festival.
If you are a school festival executive committee member who can announce the entertainment facility "BOSS E・ZO FUKUOKA" next to the PayPay dome at the school festival, please check the outline, fill in the necessary items on the application form, and send it.
We will reply to you by e-mail regarding the approval or disapproval of the sponsorship.
Overview of 2023 school festival sponsorship
Sponsorship conditions

(1) Organizations of universities, junior colleges, and vocational schools that hold school festivals and similar events

* Limited to schools within Kyushu.

* Sponsored only at the school festival. Please refrain from applying for sponsorship of other events.

② You can post the BOSS E・ZO FUKUOKA logo and appearance on the school festival pamphlet or signboard.

* Introduction on SNS is also possible

Sponsorship content

BOSS E・ZO FUKUOKA 5F
teamLab Forest Fukuoka - SBI SECURITIES Admission ticket for 5 pairs of 10 people
[Expiration date: Until the end of December 2023]

* We do not provide cash sponsorship.

Application deadline

The application deadline is the end of the month two months before the school festival.

For September ... July 31st
For October ... August 31st
Held in November ... September 30
For December ... October 31st

* We will not be able to cooperate with you if the application deadline has passed. note that.
Please fill in all the following items and send.
Notes
1. We will contact you by e-mail within one week after application regarding the approval or disapproval of sponsorship.
2. Sponsored items will be sent at least one week before the school festival date.
3. Please enter your PC address as your email address.
4. Please note that we cannot accept the proposal even if you send it directly.
5. For inquiries, please email to the following.
Contact us https://e-zofukuoka.com/inquiry/form/
Person in charge: Store Management Department Omori
Back to top